Italian Amnesty International headquarters occupied in solidarity with Alfredo Cospito on hunger strike against 41 bis (Italy, Rome, october 25, 2022)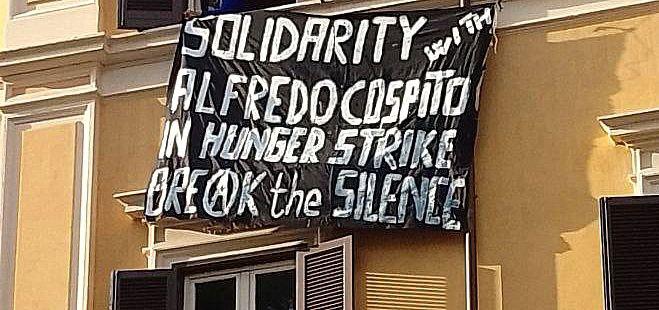 Today 25/10/2022 we occupied the Italian headquarters of Amnesty International in Rome, in solidarity with the anarchist prisoner Alfredo Cospito, who is on hunger strike since six days in the Sassari prison against the 41 bis and the life imprisonment without possibility of parole. The 41 bis is a form of prisoner annihilation, for the first time used against the anarchist movement. Alfredo was transferred to 41 bis, after more than ten years of imprisonment in high security sections, with the declared aim of shutting his mouth and silencing his contribution to the revolutionary debate.
We denounce what happened during the 20 October hearing at the Sassari surveillance court, as an exemplification of the brutality of the 41 bis Cayenne: during the hearing, which the judge imposed behind closed doors and with the comrade connected by videoconference, Alfredo attempted to read an articulate defence brief through which he expounded the reasons for the beginning of his struggle. The judge interrupted the comrade, preventing him from concluding his speech in the only – and perhaps last – opportunity to communicate with the rest of the world since he was transferred to 41 bis, by simply cutting off the audio. His contribution has been sealed like everything else from the black hole of 41 bis. If the lawyers decided to disclose it, they could face penal consequences.
An unprecedented decision that clearly shows how the state is afraid of anarchist ideas and the practices that these ideas inspire. This is unacceptable. We want to read our comrade's words immediately!
We have nothing to ask of humanitarian associations such as the one against which this morning's initiative is directed: we know that their alternating current grievances only denounce the misdeeds of some exotic regime, preferably an opponent of western imperialism. We are not asking you to say anything about it… we just wanted to spit in your face your false conscience!
Close the 41 bis! Break the silence!
In solidarity with Alfredo on hunger strike!