Defend Lützi – let's fight the power!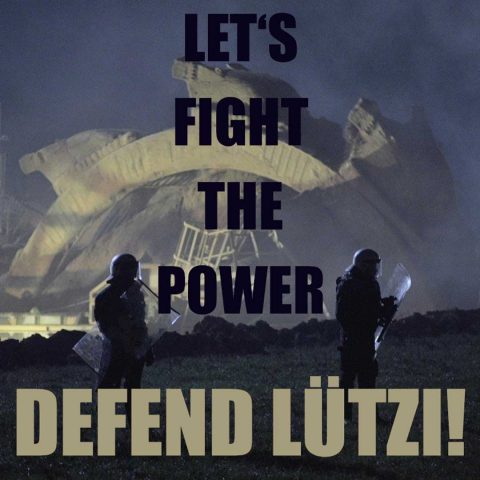 ENGLISH BELOW!
Der Tag X ist gekommen! Am 3. Januar 2023 hat die Räumung des besetzten Dorfes in Lützerath begonnen. Die Polizei hatte damit angefangen, Verteidigungsstrukturen und Barrikaden von Lützi abzureissen. Menschen dort haben Widerstand geleistet und leisten jetzt immer noch Widerstand, während Lützi am Rande des Abgrunds steht! Wir als Interkiezionale wollen unsere tiefe Solidarität mit den Genoss:innen in Lützerath ausdrücken, die kämpfen und Widerstand leisten gegen den Staat, seine Diener:innen in Uniform und die Agenda des Kapitals – welche ihren Profit aus der Zerstörung der Erde ziehen.
Diese Räumung mag auf dem Land stattfinden, nicht in der Stadt; aber der Kampf ist derselbe, den wir hier in den großen Metropolen wie Berlin und überall sonst erleben. Denn ganz gleich, ob auf dem Land oder in der Stadt – die kapitalistischen Interessen sind auf Raubbau und die Ausbeutung von Millionen von Lebewesen und ihrer Lebensbereiche ausgerichtet.
RWE hat 2006 damit begonnen, die Bewohner:innen des ursprünglichen Dorfes Lützerath zu vertreiben; einigen wurde Geld angeboten, damit sie gehen, oder sie wurden sogar gezwungen, ihre Häuser zu verlassen, um die kapitalistischen Profite von RWE zu sichern.
Jetzt wird versucht, das Dorf abzureißen und das Abbaugebiet zu vergrößern, nur um noch mehr Kohle aus den natürlichen Ressourcen der Erde zu rauszuholen. Die Natur wird ausgebeutet, das Zuhause von Menschen und Tieren wird zerstört; nur um den letzten Penny aus der völlig veralteten, zerstörerischen Kohleindustrie herauszuquetschen.
Aber wir sind nicht machtlos – gemeinsam können wir uns wehren! Als Interkiezionale rufen wir dazu auf, aktiv zu werden und den Kampf zur Verteidigung von Lützerath auch in den Großstadtgebieten zu propagieren! Der Kampf kann immer noch direkt vor Ort unterstützt werden. Und alle, die es nicht schaffen dort hinzukommen: wir können auch hier in Berlin gemeinsam unsere Wut auf die Straße tragen!
Die Solidaritätsdemonstration in Berlin findet am Montag, den 9. Januar statt; Beginn ist um 19 Uhr in der Revaler Straße/ Ecke Warschauer Straße. Lasst uns gemeinsam auf die Straße gehen und RWE zeigen, was wir von ihrer menschenverachtenden Politik halten.
Vereint im Kampf, gemeinsam kämpfen! Verteidigen wir Lützerath – vor Ort und überall sonst!
Aktionsplan Berlin: https://umap.openstreetmap.de/de/map/soli-fur-lutzi_30606
Solidaritätsdemonstration (Berlin): https://de.indymedia.org/node/250250
Lützerath Mobi Tag-X Video: https://www.youtube.com/watch?v=frp5_hj0FkU
Lützerath Live-Ticker (Kanal): https://t.me/LuetziTicker22
(english version)
Day X has come! On 3rd of January 2023, the eviction of the occupied village in Lützerath begun. Police started to tear down the defensive structures & the barricades of Lützi. People there resisted and still resist while Lützi is on the edge of the abyss! We as Interkiezionale want to express our deep solidarity with the comrades in Lützerath fighting and resisting the state, its servants in uniforms and the capital's agenda who derive their profit by the destructing the earth!
This eviction might be taking place in the countryside, not in the city; but the struggle is the same that we experience in big metropolises like Berlin and everywhere else. Because no matter if it´s the countryside or the city – capitalist interests are placed on extractivism and exploitation of millions of lives and homes.
RWE started displacing the inhabitants of the original village of Lützerath in 2006; these peoplewere offered money to go or even forced to leave their houses for the sake of RWEs capitalistic profits. Now they try to tear down the village and enlarge the mining area; to extract more coals out of the earth's natural resources. Nature gets exploited, peoples and animals houses get destroyed; only to squeeze every last penny out of the completely outdated, destructive coal Industry.
But we are not powerless – together we can resist! As interkiezionale, we want to support the call to get active and propagate the struggle to defend Lützerath also in the metropolitan fields! People can still go there in person and support the struggle physically. And all, who can't make it to go there, can take collectively the anger to the streets here in Berlin, too!
The solidarity demonstration in Berlin will take place on Monday, 9th of January; beginning at 7pm at Revaler Straße/corner to Warschauer Straße. Let's get the streets together and show RWE what we think for their inhuman-greedy politics.
United in struggle, united in fighting! Defend Lützerath – on site and everywhere else!
Berlin action map: https://umap.openstreetmap.de/de/map/soli-fur-lutzi_30606
Solidarity Demonstration (Berlin): https://de.indymedia.org/node/250250
Lützerath Mobi Tag-X Video: https://www.youtube.com/watch?v=frp5_hj0FkU
Lützerath Live-Ticker (channel): https://t.me/LuetziTicker22