Alfredo raus aus dem 41 bis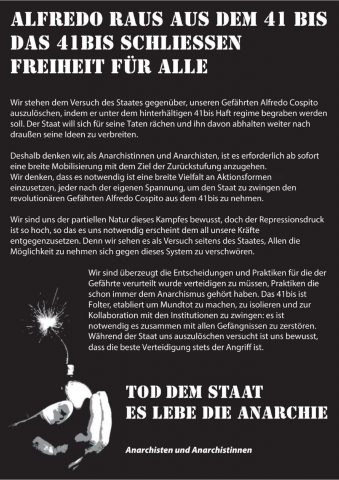 ** german on poster **
Alfredo out from 41 bis
Close 41 bis
Freedom for everyone
We are facing an attempt by the state to annihilate our comrade Alfredo Cospito, burying him in the infamous 41 bis prison regime to take revenge for his actions and prevent him from continuing to spread his ideas outside.
Therefore, we, anarchists, think it is imperative to launch, starting now, a widespread mobilisation to take him out of 41bis.
We think it is necessary to deploy a range of practices, everyone according to their own tensions, in order to force the state to remove revolutionary comrade Alfredo Cospito from 41 bis.
We are aware of the partial nature of this struggle, but the repressive stranglehold is such that we believe it is necessary to oppose it with all our strength, because we see it as an attempt by the state to undermine, for everyone, the possibilities of fighting against this system.
We are convinced that we must defend the comrade's choices and the practices for which he was sentenced, practices that have always belonged to anarchism.
41 bis is a torture regime, set up to silence, isolate and force collaboration with the institutions: it must be torn down along with all prisons.
While the state tries to annihilate us, we remain aware that the best defence is always the attack.
DEATH TO THE STATE
LONG LIVE ANARCHY
Anarchists