Demobericht: Gegen Internierungslagern, Internationale Demo in Polen am 12.02.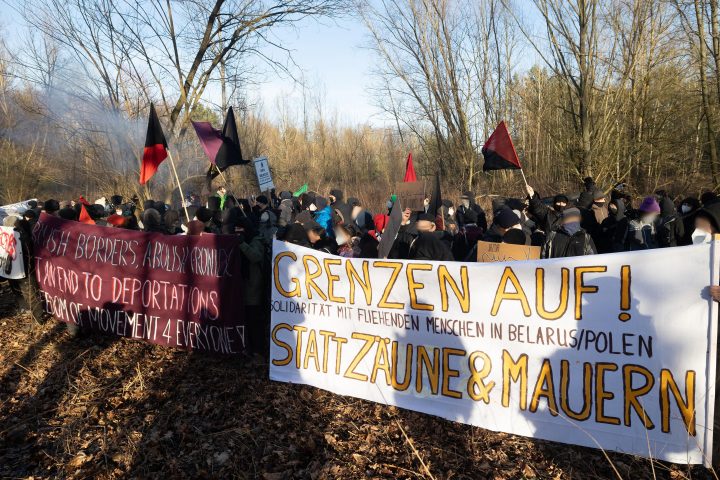 [english below]
Gestern, am Samstag, 12.Februar 2022, haben 300 Menschen gegen die polnischen Internierungslager demonstriert. Auch der Reisebus von Solibus e.v. aus Berlin kam mit rund 50 Aktivist*innen in das 150km entfernte Krosno Ordzańskie. Gemeinsam mit deutschen und polnischen Gruppen und vielen Einzelpersonen protestierten sie für die Bewegungsfreiheit der Geflüchteten und gegen die Zustände in sämtlichen Ankunftszentren des Landes. Es gab Redebeiträge verschiedener Gruppen und auch Briefe von Betroffenen wurden auf mehreren Sprachen verlesen.
Mit Trommeln, Transparenten und Sprechchören sammelten sich die Demonstrierenden vor dem Lager in Krosno Ordzańskie, wo aktuell ca. 100 Menschen in einer ehemaligen Kaserne festgehalten werden. Es handelt sich um Personen, die zur Jahreswende an der Polnisch-Belarussischen Grenze für Schlagzeilen gesorgt haben, weil sie zum Spielball der Politik Lukaschenkos, Polens und der EU wurden. Inzwischen wissen wir, dass mind. 21 Menschen an dieser Grenze gestorben sind, einige davon sind erfroren.
Diejenigen, die es tatsächlich geschafft haben, in Polen Asyl zu beantragen, werden auf rund 2000 geschätzt. Sie verharren nun auf unbestimmte Zeit in Lagern wie dem in Krosno Odrzańskie und hoffen auf Nachrichten zu ihrem Asylgesuch. Neben unwürdigen Bedingungen (kaum ärtzliche Versorgung,Verbot von Smartphones etc.) verursachen Isolation und die unsichere Situation extreme Belastung. Da die meisten dieser Menschen Opfer von Gewalt sind, ist diese Form der "Unterbringung" dem polnischen Gesetz zu Folge illegal.
Mit der Demonstration setzten die Aktivist*innen ein deutliches Zeichen für Bewegungsfreiheit, internationale Solidarität und gegen das Grenzregime Europa. Es kam zu mehreren Festnahmen, nachdem die Demonstrant*innen den Kundgebungsort spontan verlassen haben, um mit Musik und Sprechchören näher an die internierten Menschen heranzukommen, damit diese die Aktion in ihren Zellen überhaupt mitbekommen.
Eine Sprecherin vom Bündnis sagte: "Die Menschen in diesen Lagern wissen oft nicht, wann sie entlassen werden und wie es aktuell um ihr Gesuch nach Asyl steht. Ich bin sehr froh über die starke und vor allem auch internationale Beteiligung bei dieser Demonstration. Ein ganzer Reisebus aus Berlin, mit Menschen, die gegen das Grenzregime quasi vor ihrer Haustüre protestieren, sind ein wichtiges Zeichen internationaler Solidarität. Wir fordern die Auflösung dieser Auffanglager, eine Aussetzung von Abschiebungen und auch den Stopp des Baus der Mauer und damit der Zerstörung des Waldes. Alle wissen, dass man Migration auch mit Mauern nicht verhindern kann. Sie wird nur gefährlicher für schutzsuchende Menschen und lohnender für Schlepper."
Heute morgen, Montag den 14.02., waren 11 Aktivisten (aus Polen und Deutschland), die sich mit den eingesperrten Migrant:innen solidarisiert hatten, immer noch in den Polizeiwachen von Krosno Ordzańskie und Zielona Gora inhaftiert. Einige von ihnen wurden verletzt und psychisch unter Druck gesetzt, einige müssen bereits mit möglichen Gefängnisstrafen rechnen und einigen droht die Untersuchungshaft. Das NoBordersTeam Poland bittet um internationale Unterstützung.
[https://www.facebook.com/nobordersteam/?ti=as]
Schlafplatzorga Berlin sleepingplaceorga@systemli.org
No Border Assembly noborderassembly@riseup.net
Aktivist:innen und Freund:innen von den NoBordersTeam Poland nbeastn@riseup.net
—-
[english]
Yesterday, Saturday, February 12, 2022, 300 people demonstrated against the Polish internment camps. Also the coach of Solibus e.v. from Berlin came with about 50 activists* to Krosno Ordzańskie, 150km away. Together with German and Polish groups and many individuals, they protested for the freedom of movement of refugees and against the conditions in all arrival centers in the country. There were speeches by various groups and letters from those affected were also read out in several languages.
With drums, banners and chants, the demonstrators gathered in front of the camp in Krosno Ordzańskie, where currently about 100 people are detained in a former barracks. These are people who made headlines at the turn of the year on the Polish-Belarusian border because they became pawns of Lukashenko's, Poland's and the EU's policies. In the meantime, we know that at least 21 people died at this border, some of them froze to death.
Those who actually managed to apply for asylum in Poland are estimated at around 2000. They now remain indefinitely in camps like the one in Krosno Odrzańskie, waiting for news on their asylum request. In addition to undignified conditions (hardly any medical care,ban on smartphones, etc.), isolation and the insecure situation cause extreme stress. Since most of these people are victims of violence, this form of "accommodation" is illegal according to Polish law.
With the demonstration, the activists* set a clear sign for freedom of movement, international solidarity and against the border regime Europe. There were several arrests after the demonstrators spontaneously left the rally site in order to get closer to the interned people with music and chants, so that they could even hear the action in their cells.
A spokeswoman from the alliance said: "The people in these camps often do not know when they will be released and what the current situation is regarding their request for asylum. I am very happy about the strong and especially international participation in this demonstration. An entire coach from Berlin, with people protesting against the border regime virtually on their doorstep, are an important sign of international solidarity. We demand the dissolution of these reception camps, a suspension of deportations and also the stop of the construction of the wall and thus the destruction of the forest. Everyone knows that migration cannot be prevented even with walls. It only becomes more dangerous for people seeking protection and more rewarding for smugglers."
This morning, Monday 14.02, 11 activists (from Poland and Germany) who had shown solidarity with the imprisoned migrant:s were still detained in the police stations of Krosno Ordzańskie and Zielona Gora. Some of them have been injured and put under psychological pressure, some are already facing possible prison sentences and some are threatened with pre-trial detention. NoBordersTeam Poland is asking for international support.
[https://www.facebook.com/nobordersteam/?ti=as]
Schlafplatzorga Berlin sleepingplaceorga@systemli.org
No Border Assembly noborderassembly@riseup.net
Aktivists and Friends from NoBordersTeam Poland nbeastn@riseup.net
passiert am 12.02.22