Athens: Claim for solidarity attack against german company
In the early hours of 16th of june we burned a car from the german company Würth in Zografou, Kolokotroni str. This attack is dedicated to the fighting squat Rigaer94 in Berlin and to the social revolution in North Syria (west Kurdistan).
Rigaer94 is expecting an attack of police and municipality, who will help the so called "owner" to destroy the community in order to clear the city from an anarchist space.
Rojava, the big experiment for a stateless peaceful feminist society is getting attacked in the mountains of south kurdistan (iraq) by the Turkish army.
Würth is one of those companies which have full connexion with the german state to expand to other countries and at the same time is working with the german army giving to it military supplies. The german state is supporting Turkish army against rojava and is not letting the kurdish militants travel there to create peace. Würth is a collaborator of the german state in the internal and external war against liberation projects. Attacking to Würth is an attack to the german state and capital and a solidarity action to those who are oppresed by this state.
And at the end Würth is one of these companies, like all the multinational companies, pushing for the laws that are oppresing more the working class like the one that is getting voted today for the cancelation of 8hours work and the illegalazation of syndicalism.
Solidarity means attack – strength to Rigaer94 and the social revolution in Rojava
(translated from https://athens.indymedia.org/post/1613131/ , the photo is not related to this action nor to the claim on athens.indymedia)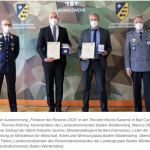 passiert am 16.06.2021