Antifascist Resistance Day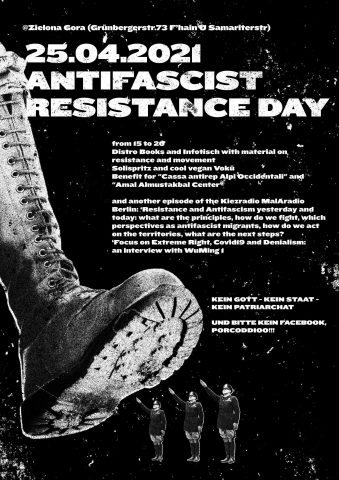 25.04.2021 ANTIFASCIST RESISTANCE DAY
@Zielona Gòra (Grünbergerstr. 73, F'hain)
From 15 to 20:
-Distro Books
-Infotisch with material on resistance and movement
-Solispritz and cool vegan Vokü
-Benefit for "Cassa Antirep Alpi Occidentali" and "Amal Almustakbal Center"
…and another episode of the Kiezradio MalAradio Berlin: 'Resistance and Antifascism yesterday and today: what are the principles, how do we fight, which perspectives as antifascist migrants, how do we act on the territories, what are the next steps?'. 'Focus on Extreme Right, Covid19 and Denialism: an interview with WuMing1'.
KEIN GOTT – KEIN STAAT – KEIN PATRIARCHAT
…UND BITTE KEIN FACEBOOK, PORCODDIOO!!!
"April, 25th is the anniversary of Italian resistance against nazi-fascism."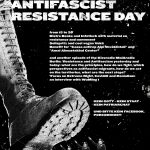 passiert am 25.04.2021