8th March is everyday. Hey man, have you ever thought about your violent privilege?! Smash the patriarchy, kill the macho!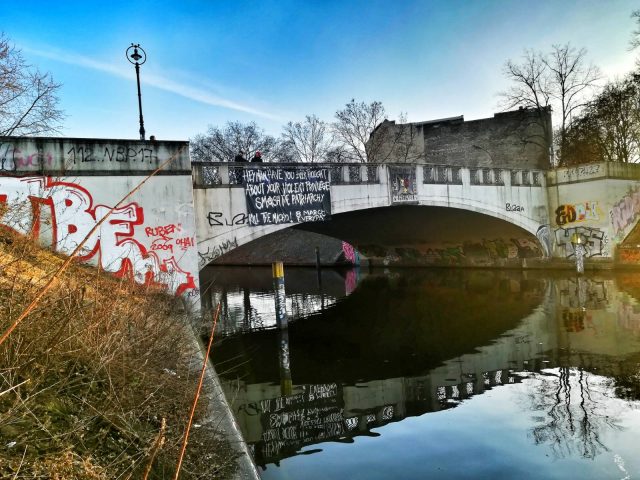 Today, March 8th 2021, for the International Women*'s day, we decided as cis-men activists to put up a banner on the Lohmühlenbrücke in solidarity with the feminist struggle and against all forms of patriarchy and gender violence, while the rally called by the International Feminist Alliance took place in Berlin with 15000 participants.
Our action adheres to the Alliance's invitation as cis-men to show solidarity and to question ourselves, our privilege as white men in western capitalist societies and the patriarchal logic by which we are polluted from birth.
As cis-men we are born and grow up in a society based on patriarchy and sexism. We learn all this within our families, in schools, in the streets, in social places. We become aware as migrant activists, raised in violent countries, that the condition of every woman, lesbian, intersex, non-binary*, trans and asexual, is relegated to roles of marginality and exploitation, strongly influenced by various religions, by the concept of "traditional family", labour and systemic violence. A condition that we strongly reject, that is our enemy, and that leads us to question ourselves through paths towards total liberation.
These lines and this action are intended to be a first and by no means exhaustive moment of debate and consciousness-raising among us.
We invite other cis-men to start individual and collective paths of reflection, self-criticism, self-education and destruction of their privileges, in order to get rid of the forms of machism and patriarchy that we suffer and that we re-propose in our everyday relationships.
Fighting patriarchy every day, inside and outside of us.
passiert am 08.03.2021