Isolation Is Torture – Call for Open Assembly
Isolation Is Torture Assembly
16. Mai 2023
Aufrufe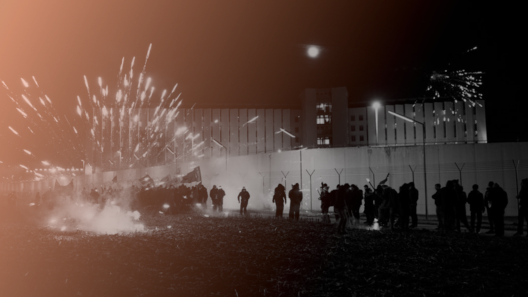 The development of prisons, imprisonment methods and isolation has been taken very seriously by all Imperialist states, in order to contain and with final goal to eliminate any revolutionary will. The rights in prison do not exist. Whatever crumbs are given there, are linked to a reward-punishment system. The only authentic rights we all could have in and out of prisons, are gained through the struggle of the people that chose to resist and not negotiate with that abusive system.  
Alfredo Cospito's struggle against the isolation regime 41bis in Italy is a very recent example of such a courageous resistance.  At the same moment, here in our city, in Berlin, the resistance of Eda
Deniz
Haydaroglu against the anti-terror laws §§129 a&b of the German Penal Code is going further. She is in indefinite hunger strike since 18.03.2023, against
§§129 a&b, demanding freedom of anti-fascist and revolutionary prisoners in Germany . Now, together with her, Ilgın Güler started an indefinite hunger strike on 08.05.2023
, and Sevil Sevimli Güler started also an indefinite hunger strike on 13.05.2023.
We would like to call for an open assembly on
23rd
of May, at 1
9:00, at New York in Bethanien 
to discuss in a collective manner the aftermath of Alfredo's resistance.
In terms of resistance or struggle, we tend to measure everything in a binary way between winning and losing in terms of the objectives set. We understand that this model of thinking is shaped by capitalism, preventing us from seeing the whole path and experience of long-term struggles. We want to sit down and talk about our praxis and the way we organise ourselves in solidarity with different individuals or collectives struggling from inside the prisons and share our thoughts and feelings about the 6 months of Alfredo Cospito's hunger strike and how it was experienced here in Berlin. 
Together with that, we would like to think about ways that we could take an active part in the struggle, support and grow the ongoing resistance
in our city
against the §§129 a&b, giving voice to Eda
,
Ilgın
and Sevil
. 
The resistance is a barricade against state repression!
HOLD THE BANNER OF THE INTERNATIONAL SOLIDARITY!
Day: 23.05.2023
Time: 19:00
Location:
New Yorck im Bethanien,

Mariannenplatz 2A,10997 Berlin
passiert am 23.05.2023