(Hamburg) Arson attack in solidarity with Alfredo Cospito and Lützerath / Strabag truck torched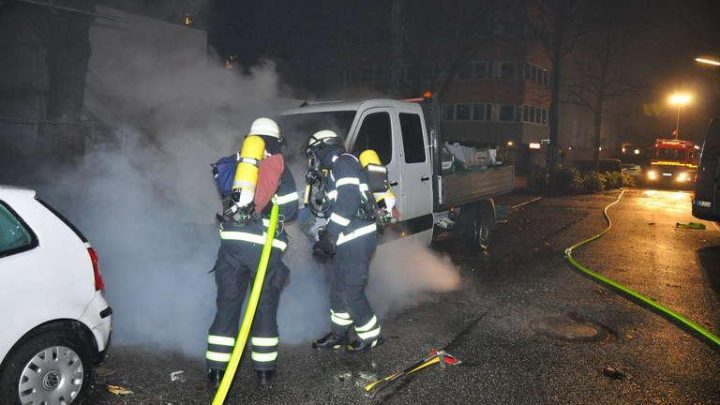 (English translation of: https://de.indymedia.org/node/250602)
In thought of anarchist prisoner in hungerstrike Alfredo Cospito, we torched a 'Strabag' truck in the Schanze¹ neighborhood during the night of January 4th.
Not only does the Strabag company build prisons. Ever since the struggle for the Dannenröder forest² they were also often attacked for their active role in the destruction of the natural world. Our fire is also supposed to donate some strength to those fighting in and around Lützerath³. The eviction has already begun now.
We are in solidarity with Alfredo Cospito who is on hunger strike since 20.10.2022 with the demands to go out of 41-bis (the isolation prison regime) and no life sentence without the option of parole. Alfredo's conditions of imprisonment are for the moment slightly better than the last weeks. He lost a lot of weight and his health is relatively stable but it could get critical at any time. Two more prisoners in Italy, Anna and Juan already were for long time in solidarity hunger strike with Alfredo, another prisoner in France Ivan Alocco also supports Alfredo by making hunger strike too. Toby Shone who is imprisoned in England also supports Alfredo by refusing to eat some days per week.
https://actforfree.noblogs.org/post/2023/01/01/italy-update-about-the-he…
We are also in solidarity with Thanos Chatziangelo,u the imprisoned member of Organisation Anarchist Action who got illegally transferred on 19.12 from Korydallos prison to Nigritas prison in Serres, Greece. Thanos started on the same day hunger and thirst strike. The comrade is active in the recent mobilisations inside the prisons against the new strict laws, which are taking place in many prisons around Greece and many prisoners participate in the struggle during the last months.
On 25.12 he got transferred to Nigritas Hospital where he is guarded by cops 24/7. On the evening of 31.12 -after a prosecutor's warrant- there was the first attempt to torture him by attempting to force-feed him by some external doctors. Thanos resisted and broke the hydration injection. Force-feeding is torture! The demands of our comrade are to be fullfilled! Make public the reason of his transport and bring him back to Korydallos prison.
5 more prisoners in Greece already support his struggle and are in solidarity hunger strike with him.
https://de.indymedia.org/node/249682 (DE)
https://de.indymedia.org/node/249682 (ENG)
We are in solidarity with the 11 comrades from Turkey who are imprisoned in Greece: Ali Ercan Gökoğlu, Burak Agarmış, Hasan Kaya, Sinan Çam, Şadi Naci Özpolat,  Halil Demir, Anıl Sayar, Harika Kızılkaya, Hazal Seçer, Sinan Oktay Özen, İsmail Zat. They are on hunger strike since 7.10 demanding for a fair trial and the immediate cancelation of the illegal 133 years of sentence who all 11 got, from the Greek court. Alongside with several demands concerning their rights during the arrests and their legal status in Greece. A lot of prisoners in Greece are in solidarity with the 11 prisoners.
Those are words we share from the call for the demonstration "NO PRISON, NO NATION, STOP ISOLATION" that took place on January 8th in Berlin.
Freedom for all prisoners! Down with the walls and the energy corporations!
¹ Translator's notice: traditionally rebellious quarter in Hamburg
² Translator's notice: forest that was occupied and defended against the construction of a highway
³ Translator's notice: Occupied village currently being defended against energy corporation RWE and the repression forces of the state that want to enable the expansion of a lignite coal mine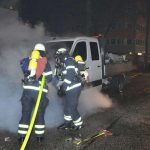 passiert am 05.01.2022