Linkes Sommerkino: »Not just your picture«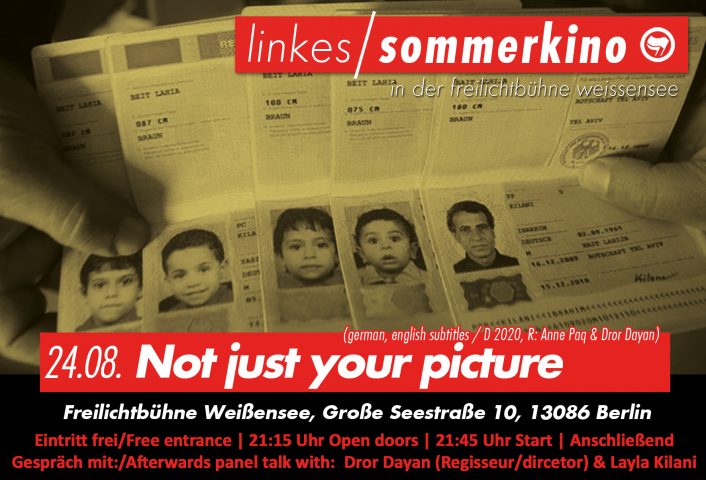 Zwei in Deutschland lebende Geschwister reisen zurück nach Palästina, nachdem ihr Vater und ihre Familie bei einem Luftangriff im Haus der Familie starben, um ihre Familiengeschichte, Wurzeln zu erforschen und ihre Geschichten zu erzählen. Nach dem Film findet ein Podiumsgespräch und eine Diskussion mit dem Regisseur Dror Dayan und den Geschwistern Ramsis und Layla Kilani statt.
Two , in Germany living, siblings travel back to Palestine, after their father and family died in their family house during an airstrike, to research on their family history, roots and to tell their stories. There will be a panel talk and discussion after the movie with the director Dror Dayan and the siblings Ramsis and Layla Kilani.
* long English version below *
»Not just your picture«
Open-Air-Kino & Diskussion:
Mi, 24.08.2022 | 21:15 Uhr (Einlass), 21:45 Uhr (Filmbeginn), im Anschluss Diskussion | Freilichtbühne Weißensee (Große Seestraße 8-10 / Berlin-Weißensee)
Eintritt: frei
Im Anschluss an den Film Diskussion mit Dror Dayan (Regisseur) und und Layla Kilani
Sprachversion: deutsch mit englischen Unteriteln
Regie: Anne Paq & Dror Dayan, 2020
Im Sommer 2014, während dem Angriff Israels auf Gaza, werden Ibrahim, seine Frau und die fünf gemeinsamen Kinder durch eine Rakete, die ihr Haus trifft, ermordet. Ibrahim hat auch zwei weitere Kinder aus einer früheren Beziehung: Layla und Ramsis Kilani, die in Deutschland geboren und aufgewachsen sind. Laylas und Ramsis' Trauer über den Tod ihres Vaters und ihrer Stieffamilie bringt sie dazu, sich auf eine politische Reise zu begeben. Layla reist nach Palästina und hofft dort mehr über ihre Wurzeln zu erfahren sowie ihre Familie in Gaza zu treffen.
Ramsis bereist Europa, um die Geschichte der Familie zu erzählen, während er eine Untersuchung gegen den israelischen Staat vor einem deutschen Gericht anstrebt. Die Familie in Gaza versucht in der Zwischenzeit, mit den Nachwirkungen der Tragödie zurechtzukommen; Onkel Saleh möchte die Kinder seines Bruders treffen, die er als Erwachsene noch nicht gesehen hat. Sich zwischen Gaza und Deutschland bewegend, zwischen der Vergangenheit und der Gegenwart, folgen der Film der Familie. Als Teil einer neuen Generation von Kindern palästinensischer Geflüchteter und Migrant:innen sind Layla und Ramsis gezwungen, ihre persönliche und politische Identität neu zu definieren. In ihrem Kampf, ihre Trauer zu überwinden und Gerechtigkeit für ihre Familie zu erstreiten, werden sie eine wichtige Stimme im aktuellen europäischen Diskurs um Migration und die Region Südostasien / Nordafrika.
******************************
»Not just your picture«
Wednesday 24.8.2022 | Doors: 9:15 pm, Start: 9:45 pm | Freilichtbühne Weißensee (Große Seestraße 10, 13086 Berlin)
Free entrance
Afterwards panel talk with Dror Dayan (director) and Layla Kilani.
Language: German with English subtitels
Directed by: Anne Paq & Dror Dayan, 2020
On summer 2014, during an Israel airstrike against Gaza, Ibrahim, his wife and their five children get killed when a missile hit their house. Ibrahim also has two other children from his previous relationship: Layla and Ramsis Kilani, born and raised in Germany. The grief about their step families death lays the path for their political and personal journey to their Palestinian roots. Both travel to Palestine in hope to find their family in Gaza, find out about their ancestors and family history
Ramsis is travelling Europe to tell the family story while he's aiming for an investigation from the German court against the Israel government. Meanwhile the family in Gaza is trying to cope with the tragedy and it's aftermath;
Uncle Saleh wants to meet his brothers children, who he never met before as adults. They travel between Gaza and Germany, between past and present; follow the family.
As a part of a new generation of kids of migrants and refugees Layla and Ramsis are forced to find and redefine their political and personal Identity. In their struggle to cope with the loss and grief and their fight for justice for their family they become an important voice for the current discourse on migration and the South West Asian/North African region.
Veranstalter*innen/Organizer: North-East Antifascists [NEA]
Material:
»Not just your picture«-Website:
https://notjustyourpicture.com/
Trailer on Youtube:
http://youtube.com/watch?v=dFOVuxhPh