FROM PATRAS TO BERLIN, SOLIDARITY WITH RIGAER94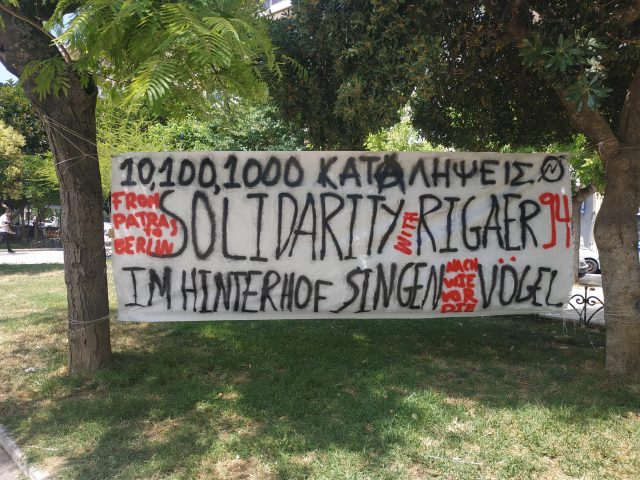 Today on 17 June Rigaer 94 is attacked by the forces of repression with the excuse of a fire safety check under the supervision of its self-proclaimed owner.
Στεκόμαστε αλληλέγγυοι στ@ συντρόφι@ μας!
ΚΑΜΙΑ ΚΑΤΑΛΗΨΗ ΣΤΑ ΧΕΡΙΑ ΤΟΥ ΚΡΑΤΟΥΣ!
10, 100 , 1ΟΟ0αδες ΚΑΤΑΛΗΨΕΙΣ ΕΝΑΝΤΙΑ ΣΕ ΈΝΑΝ ΚΟΣΜΟ ΟΡΓΑΝΩΜΕΝΗΣ ΣΗΨΗΣ!
UNITED WE FIGHT!
RIGAER STRASSE KOPI BLEIBT ONE STRUGGLE ONE FIGHT!
Im Hinterhof singen nach wie vor die Vögel!
Today demo 20h | Boxhagener Platz!
passiert am 17.06.2021