D. Koufontinas im Hungerstreik: Forderung nach Solidaritäts Maßnahmen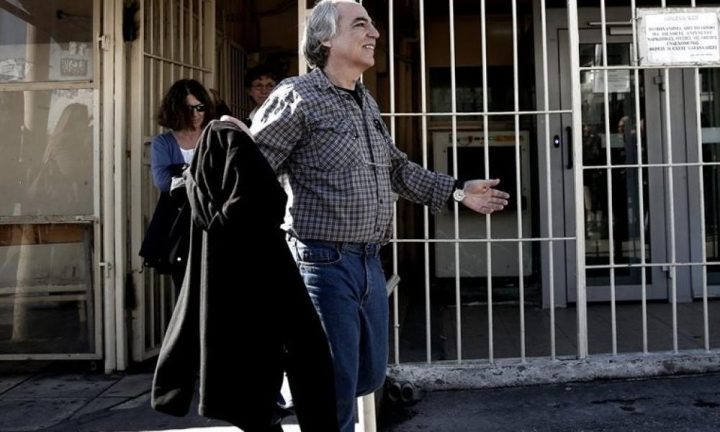 Nachrichten aus Griechenland: Aufruf zu solidarischen Aktionen mit Dimitri Koufontinas
Dimitris Gesundheit wird immer schlechter, Ärzte sagen, er könnte sterben oder ins Koma fallen.
Mehr denn je ist es wichtig, Koufontinas und allen griechischen Genossen, die sich in den letzten Monaten in einem stark repressiven Klima befinden, das es schwierig macht, auf die Straße zu gehen, Solidarität und Unterstützung zu zeigen.
Wir zeigen den griechischen Genossen Unterstützung bei Aktionen in Solidarität mit Dimitri Koufontinas!
Since January 8, 2021, Dimitris Koufontinas has started a hunger strike in response to the vengeful anger that the Greek state, after 18 years of imprisonment, continues to reserve for him. If there is nothing so detestable for repression agents as the revolutionary consistency and dignity of those who continue to claim their experience with their heads held high, in Greece this is perhaps even more true of the armed organization "November 17" of which Koufontinas was a member and for whose activities he has always assumed responsibility. Apparently, a quarter of a century of armed struggle is a "scandal" that still burns. Suffice it to recall, on the other hand, that a few years ago (when Koufondinas managed to obtain a semi-release permit) the US State Department also intervened as a sign of protest, according to which the comrade in prison was "inspiring new generations of terrorists". Evidently, the execution of the CIA chief in Greece with which the "November 17" has started his business in 1975, is still in flames
D. Koufontinas is a member of the organization "November 17" (17N): a revolutionary and anti-imperialist Marxist organization which operated in Greece between 1975 and 2002, and which takes its name from the significant date of the "polytechnic revolt" in Athens in 1973 (massive student demonstration of popular rejection of the Greek military junta of 1967-1974; the revolt began on November 14, 1973, degenerated into an open anti-junta revolt and ended in bloodshed on November 17).
Koufontinas has been in prison since 2002 and went on a hunger strike on 8 January.
It all started with the new prison reform approved in late December by the Greek parliament, which increases the minimum time necessary to spend behind bars before obtaining permits, but above all has imposed many restrictions on access to rural prisons (prisons in which prisoners enjoy a less restrictive regime in which 1 day is worth 3 discounted) and access to this type of detention is prohibited for those convicted of terrorism. This measure seems designed ad hoc to implement the revenge of the state against Dimitri Koufontinas, who in almost 20 years in prison as a terrorist has never repented or apologized for the actions of the 17N.
In particular, prisoners incarcerated for terrorism must be taken from rural prisons to the last prison they were held in. Koufontinas was then to be taken from Kassevitia (rural prison) to Korydallos, the prison in Athens where he served most of his sentence. But during the transfer, the comrade was directed to the maximum security prison of Domokos (8-1-21) even though official documents were written of his transfer to Korydallos.
The hunger strike then begins in the context of all this, with the request of Koufontinas to be sent back to the prison in Athens (Korydallos). Out of solidarity, other inmates went on hunger strike (16-1-21 and 18-1-21), including some members of the Revolutionary Struggle (E.A).
The revenge of the state does not seem to stop, the executive for now does not seem to have any intention of meeting the demands of the hunger strike. On January 25, Koufontinas was transported to Lamia hospital and has since been hospitalized in a special section of the hospital guarded by the police. His conditions are becoming critical: advanced age and the five hunger strikes made during the years of imprisonment that have seriously undermined his physique, make the moment even more delicate.
His letter: https://athens.indymedia.org/post/1609549/
The letter written by the others: https://athens.indymedia.org/post/1609685/