Camp against BER deportation prison 1. – 6. June has started!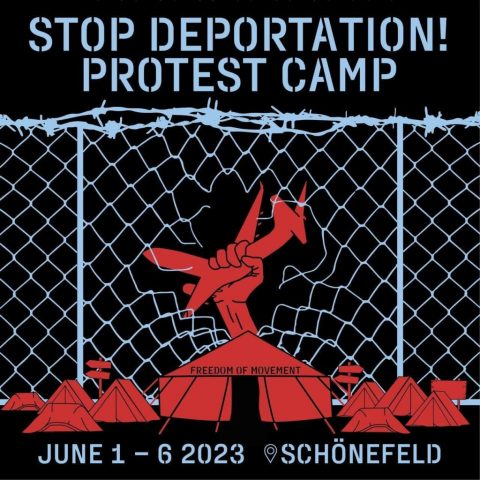 The protest camp against the new deportation prison in Berlin has begun!
All the Infos how to reach the camp and the program can be found here.
Here the Call from some weeks ago in several languages:
Join the Protest Camp against Deportations!
At the Berlin-Brandenburg Airport, the government plans to build a massive deportation prison. Already now, mass deportations via charter flights silently take place there every month. We want to break the silence and are organizing the "Stop Deportation! Protest Camp" in Schönefeld from June 1-6 2023.
Get your tents and sleeping bags ready! Only a few more weeks before the Stop Deportation! Protest Camp starts ✊✊
We expect around 500 people to sleep at the camp:
⛺️ 6 days full of workshops, trainings, panel discussions that focus on the daily realities of anti-deportation struggles
🎤 an evening schedule with live-concerts, films and theater
🍽️ 3 meals per day are taken care off
✨ there's a kids programme, sports, library & exhibitions
🏕️ sleep in your tent at the legal, registered camp close to the airport
📢 and at the end we will take to streets in protest against the planned deportation center at BER airport
Stop all deportations! Freedom of movement is everybody's right!
The Camp will be a place for:
Workshops & Skillsharing
So many people and groups are already doing great work to fight and resist deportations and structural racism. Let's share our knowledge and learn from each other.
Raising Awareness
The camp will show presence in the Schönefeld area and raise awareness about deportations, deportation detention and the perspectives of affected people.
Connecting Movements
We believe it is necessary to build a broader movement against deportations and for the right to stay. At the camp we can get to know each other better and connect.
Join the Camp from June 1-6 2023! To make our planning easier, please sign up for the camp at signup-stopdeportation@riseup.net (not mandatory, it is also possible to join spontaneously). In the sign-up email, please let us know how many people you will be, if you are organized in a group, if you can help us with translation or need translation for our workshops, or if you need support with anything.
Participation in the camp is of course free of charge. We will ask for donations for the food at the camp. Having little economic resources should not stop you from attending the camp. If you can't donate anything, that's no problem! If you need financial support for travel expenses to the camp, please contact finance-stopdeportation@riseup.net as soon as possible. You will need to bring your printed ticket/receipt to be reimbursed. In order to reduce costs, please purchase your tickets as early as possible and consider using the "Deutschland-Ticket." If you have the possibility to financially support the camp, please consider donating via our crowdfunding: https://www.betterplace.me/stop-deportation-camp-ber
WE ARE HERE, AND WE WILL FIGHT! FREEDOM OF MOVEMENT IS EVERYBODY'S RIGHT!
Stay updated on our telegram channel: https://t.me/stopdeportation
Email for general questions: stop-deportation-camp@riseup.net
———————————————————————————————–
Participe au camp de protestation contre les expulsions !
A l'aéroport de Berlin-Brandenburg, le gouvernement prévoit de construire une immense prison pour les expulsions. Des expulsions massives par vols charters ont déjà lieu en silence chaque mois à partir de cet aéroport. Nous voulons briser le silence et organisons le "Stop Deportation ! Protest Camp" à proximité de l'aéroport BER du 1er au 6 juin 2023.
Le camp sera un lieu pour :
Ateliers & échanges d'expériences
Tant de personnes et de groupes résistent déjà aux expulsions et au racisme structurel. Partageons nos connaissances et apprenons les un.es des autres.
Prise de conscience
Avec le camp, nous serons présent.es autour de l'aéroport BER à Schönefeld. Prenons conscience des expulsions, de la détention et des perspectives des personnes concernées !
Mettre les mouvements en réseau
Nous pensons qu'il est nécessaire de construire un mouvement plus large contre les expulsions et pour le droit de rester inconditionnel. Le camp nous permettra de mieux nous connaître et de nous mettre en réseau.
Participe au camp du 1er au 6 juin 2023 ! Pour nous faciliter la planification, inscris-toi au camp sur signup-stopdeportation@riseup.net (ce n'est pas obligatoire, tu peux aussi y participer spontanément). N'hésite pas à nous communiquer les informations suivantes : Avec combien de personnes viens-tu ? Es-tu organisé.e en groupe ? Veux-tu contribuer au programme du camp ? Peux-tu offrir une traduction ou as-tu besoin d'une traduction pour les ateliers ? As-tu besoin d'aide pour quelque chose ?
OHLALA, OHLÉLÉ, SOLIDARITÉ AVEC LES SANS-PAPIERS!
———————————————————————————————–
​​​​إنضم*ي إلى خيمة الاحتجاج ضد عمليات الترحيل .
تخطط الحكومة الألمانية إقامة سجن مخصص لعمليات الترحيل في مطار براندبورغ برلين .
كل شهر تتم رحلات ترحيل اللاجئين بشكل صامت عن طريق الرحلات العارضة وهي استئجار طائرة بشكل كامل للقيام بعملية الترحيل الاجباري .
نريد كسر حاجز الصمت .
لذلك نود تنظيم حملة (أوقفوا الترحيل) وإقامة مخيم الاحتجاج بالقرب من مطار براندبورغ برلين ابتدأ من ١ إلى ٦ حزيران القادم .
سيكون المخيم مكانا للأمور التالية .
• ورش تدريبية و تبادل خبرات .
الكثير من الناس والمجموعات يقاومون بالفعل عمليات الترحيل والعنصرية الهيكلية. دعونا نشارك معرفتنا ونتعلم من بعضنا البعض.
• رفع الوعي.
بواسطة المخيم سنكون حاضرين حول مطار شونيفيلد ، دعونا نخلق وعي حول قضية الترحيل والاحتجاز وبناء وجهات النظر من خلال أراء المتضررين.
• بناء شبكة معارف والتشبيك .
نحن نؤمن أنه من الضروري بناء حركة أوسع ضد عمليات الترحيل والحق غير المشروط في البقاء .
في المخيم يمكننا التعرف على بعضنا البعض بشكل أفضل والتواصل.
انضم*ي إلى المخيم من 1 إلى 6 حزيران 2023!
لتسهيل عملية التنظيم بالنسبة لنا ، يرجى التسجيل في المخيم عن طريق الايميل المرفق .
signup-stopdeportation@riseup.net
ولكن يمكنكم أيضا أن تأتوا بشكل عفوي.
يرجى أن تخبرنا بما يلي :
كم عدد الأشخاص الذين سوف تأتون معهم؟
هل أنتم منظمة ام مجموعة؟
هل ترغبون في المساهمة في برنامج المخيم؟
هل تحتاجون إلى مساعدة في أي شيء؟
الترحيل تعذيب، الترحيل قتل.
حق البقاء للجميع .. الآن ! فوراً !
———————————————————————————————–
¡Únete al campamento de protesta contra las deportaciones!
El gobierno quiere construir una prisión enorme de deportación en el aeropuerto de Berlín-Brandeburgo. Desde allí ya se están realizando silenciosamente y mes a mes deportaciones masivas en vuelos chárter.
Queremos romper el silencio y organizar el "¡Alto a las deportaciones! Campamento de protesta" cerca del aeropuerto BER del 1er al 6 de junio 2023.
El campamento será un lugar para:
Talleres e intercambio de experiencias.
Muchas personas y grupos ya se oponen a las deportaciones y al racismo estructural. Compartamos nuestros conocimientos y aprendamos unes de otres
Sensibilización
Con el campamento estaremos presentes en los alrededores del aeropuerto BER de Schönefeld. Hagamos conciencia de las deportaciones, las detenciones y las perspectivas que enfrentan les afectades.
Crear redes
Creemos que es necesario construir un movimiento más amplio contra las deportaciones y por el derecho incondicional a permanecer. En el campamento podremos conocernos mejor y trabajar en redes.
¡Únete a nosotres en el campamento del 1 al 6 de junio de 2023! Para facilitar la planificación, inscríbete aquí signup-stopdeportation@riseup.net
También puedes participar de manera espontánea. Por favor, infórmanos de lo siguiente ¿Con cuántas personas vienes? ¿Estás organizade en un grupo? ¿Quieres contribuir al programa del campamento? ¿Necesitas ayuda con algo?
LA DEPORTACIÓN ES TORTURA, LA DEPORTACIÓN ES ASESINATO. DERECHO DE PERMANENCIA PARA TODES, ¡YA!
———————————————————————————————–
Sınır dışı edilmelere karşı protesto kampına katılın!
Hükümet Berlin-Brandenburg havaalanında büyük bir sınır dışı hapishanesi inşa etmeyi planlıyor. Her ay oradan charter uçuşlarla toplu sınırdışılar zaten sessizce gerçekleşiyor. Sessizliği bozmak için, 1-6 Haziran 2023 tarihleri arasında BER havaalanı yakınında "Sınır Dışı Edilmeyi Durdurun! Protesto Kampı "nı düzenlemek istiyoruz.
Kampımızda aşağıdaki etkinlikler yer alacaktir:
Atölye çalışmaları ve deneyim paylaşımı
Pek çok kişi ve grup halihazırda sınır dışı edilmelere ve yapısal ırkçılığa karşı direniyor. Bilgilerimizi paylaşalım ve birbirimizden öğrenelim.
Farkındalık artırma
Kampla birlikte Schönefeld'deki BER havaalanı çevresinde olacağız. Sınır dışı etme, alıkoyma ve bunlardan etkilenenlerin bakış açıları hakkında farkındalık yaratalım!
Güçlerimizi Birleştirelim
Sınır dışı edilmelere karşı ve koşulsuz kalma hakkı için daha geniş bir hareket inşa etmenin gerekli olduğuna inanıyoruz. Kampta birbirimizi daha iyi tanıyabilir ve ağ kurabiliriz.
1-6 Haziran 2023 tarihleri arasındaki kamp için bize katılın! Planlamayı kolaylaştırmak için lütfen signup-stopdeportation@riseup.net adresinden kampa kayıt olun (zorunlu değildir, direk katılımda sağlayabilirsiniz). Lütfen bizi aşağıdakilerle ilgili bilgilendirin: Kaç kişi ile geliyorsunuz? Bir grup olarak mı organize oldunuz? Kamp programına katkıda bulunmak istiyor musunuz? Çeviri yapabilir misiniz veya atölye çalışmaları için çeviriye ihtiyacınız var mı? Herhangi bir konuda desteğe ihtiyacınız var mı?
SINIR DIŞI ETMEK İŞKENCEDİR, SINIR DIŞI ETMEK CİNAYETTİR. HERKES İÇİN KALMA HAKKI, HEMEN ŞİMDİ!
———————————————————————————————–
به اعتراضات علیه دیپورت‌ها بپیوند!
دولت در فرودگاه برلین-براندنبورگ قصد دارد زندانی بزرگی برای دیپورت‌ها ایجاد کند. در حال حاضر، هر ماه از طریق پروازهای چارتر، دیپورت‌های جمعی بی صدا در آنجا انجام می شود.
ما می‌خواهیم سکوت را بشکنیم و اعتراض خود را با نام "اعتراض به دیپورت‌ها! اردوگاه اعتراضی" در نزدیکی فرودگاه BER برلین از 1 تا 6 ژوئن 2023 برگزار کنیم.
این اردوگاه، جایی برای:
کارگاه‌ها و اشتراک‌گذاری مهارت‌ها
تعداد زیادی از مردم و گروه‌ها، در حال مبارزه و مقاومت در برابر دیپورت‌ها و نژادپرستی ساختاری هستند. بیایید دانش خود را با یکدیگر به اشتراک بگذاریم و از یکدیگر یاد بگیریم.
افزایش آگاهی
این اردوگاه در منطقه BER/Schönefeld حضور دارد و آگاهی درباره دیپورت‌ها، بازداشت دیپورتی و دیدگاه های افراد تحت تأثیر را افزایش می دهد.
ارتباط گرفتن با حرکات
ما معتقدیم که لازم است یک جنبش گسترده در برابر دیپورت‌ها و برای حق ماندن بسازیم. در این اردوگاه، می توانیم با یکدیگر آشنا شویم و ارتباط برقرار کنیم.
از 1 تا 6 ژوئن 2023 به اردوگاه بپیوندید! برای راحتی برنامه ریزی، لطفا به این ایمیل ثبت نام کنید
signup-stopdeportation@riseup.net
لطفاً به ما اطلاع دهید که با چند نفر می‌آیید؟ آیا در یک گروه سازماندهی شده‌اید؟ آیا می‌خواهید به برنامه اردو کمک کنید؟ آیا می‌توانید ترجمه ارائه دهید یا نیاز به ترجمه برای کارگاه‌های اردو دارید؟ آیا به هر نوع حمایت دیگری نیاز دارید؟
ما اینجا هستیم و مبارزه خواهیم کرد! اخراج اجباری، شكنجه است. اخراج اجباری، قتل است. حق اقامت برای همه، همین حالا.
———————————————————————————————–
Присоединяйтесь к лагерю протеста против депортации!
Правительство планирует построить огромную депортационную тюрьму в аэропорту Берлин-Бранденбург. Оттуда безмолвно ежемесячно проходять массовые депортации чартерными рейсами.
Мы хотим нарушить молчание и организуем "Стоп депортации! Лагерь протеста" возле аэропорта BER с 1 по 6 июня 2023 года.
Лагерь будет местом для:
Семинаров и обмены опыта
Очень много людей и групп уже противостоят депортациям и структурному расизму. Давайте делиться нашими знаниями и учиться друг от друга.
Повышение осведомлённости
Вместе с лагерем мы будем присутствовать в районе аэропорта BER в Шенефельде. Давайте создавать и повышать осведомленность о депортациях, об аресте и перспективах пострадавших!
Сетевые движения
Мы считаем что необходимо создать более широкое движение против депортации и за безусловное право жительства. В лагере мы сможем лучше узнать друг друга и установить контакты.
Присоединяйтесь к нам в лагере с 1 по 6 июня 2023 года! Чтобы облегчить планирование пожалуйста зарегистрируйтесь в лагере на сайте signup-stopdeportation@riseup.net (это не обязательно, вы также можете присоединиться спонтанно). Пожалуйста, сообщите нам следующее: Сколько человек едет с вами? Вы организованы в группу? Хотите ли вы содействовать в чём либо в лагере? Вы можете переводить или вам самим нужен перевод для семинаров? Нужна ли вам помощь в чем-либо?
ДЕПОРТАЦИЯ – ЭТО ПЫТКА, ДЕПОРТАЦИЯ – ЭТО УБИЙСТВО. ПРАВО ЖИТЕЛЬСТВА ДЛЯ ВСЕХ, СЕЙЧАС!
———————————————————————————————–
Pridružite se kampu protesta protiv deportacija!
Na aerodromu Berlin-Brandenburg, Nemačka vlada planira da izgradi veliki zatvor za deportaciju. Već sada se tamo svakog meseca dešavaju masovne deportacije čarter letovima.
Želimo da prekinemo tišinu i organizujemo akciju "Stop deportaciji! Protestni kamp" u blizini aerodroma BER od 1. do 6. juna 2023.
Kamp će biti mesto za:
Radionice i deljenje veština
Toliko ljudi i grupa već rade sjajan posao u borbi protiv deportacija i strukturalnog rasizma i otpora njima. Hajde da podelimo svoje znanje i učimo jedni od drugih.
Podizanje nivoa svesti
Kamp će pokazati svoje prisustvo u oblasti BER/Schönefeld i podići svest o deportacijama, deportacionim pritvorima i o situacijama ljudi pogođenih deportacijama.
Povezivanje pokreta
Smatramo da je neophodno izgraditi širi pokret protiv deportacija i za pravo na boravak. U kampu možemo da se upoznamo i povežemo.
Pridružite se kampu od 1. do 6. juna 2023.! Da biste nam olakšali planiranje, prijavite se za kamp na signup-stopdeportation@riseup.net (projava nije obavezna, moguće je i spontano pridruživanje). U mejlu za prijavu recite nam koliko ćete ljudi biti, da li ste organizovani u grupi, da li želite nešto da doprinesete programu kampa, da li možete da nam pomognete oko prevoda ili vam treba prevod za naše radionice, ili ako vam je potrebna podrška u bilo čemu drugom.
TU SMO, I BORIĆEMO SE! SLOBODA KRETANJA JE SVAČIJE PRAVO!
———————————————————————————————–
Przyłącz się do obozu protestacyjnego przeciwko deportacjom!
Na terminalu 5 lotniska Berlin – Brandenburg (BER) rząd planuje budowę centrum deportacji uchodźców. Poza przetrzymywaniem osób uchodźczych, które dostały nakaz deportacji, będą tam prowadzone postępowania w sprawie wniosków o azyl. Już teraz co miesiąc masowo odsyła się ludzi lotami czarterowymi.
Chcemy przerwać milczenie w tej sprawie. 1-6 czerwca 2023 organizujemy w Schönefeld obóz protestacyjny "Zatrzymać deportacje!
Przygotujcie namioty i śpiwory! Jeszcze tylko tydzień do rozpoczęcia akcji "Zatrzymać deportacje!" w obozie namiotowym w Schönefeld. ✊✊
Spodziewamy się ok. 500 osób, które rozbiją tu swoje namioty. Poza tym:
⛺️ 6 dni warsztatów, treningów, dyskusji panelowych na temat realiów walki przeciwko obozom deportacji uchodźców
🎤 wieczorem koncerty live, filmy i spektakle teatralne
🍽️ zapewniamy 3 posiłki dziennie
✨program dla dzieci, sport, biblioteka i wystawy
🏕️ śpij w namiocie obok lotniska
📢 na koniec idziemy na ulicę, żeby kontynuować protest
Zatrzymać deportacje! Wolność przemieszczania się prawem człowieka!
Warsztaty i & Skillsharing
Wielu ludzi i grup wykonuje wspaniałą pracę, przeciwstawiając się deportacjom i strukturalnemu rasizmowi. Dzielmy się swoją wiedzą i uczmy się od siebie.
Budzenie świadomości
Obóz protestacyjny będzie mocnym sygnałem i wzmocni społeczną świadomość istnienia deportacji, aresztowań osób deportowanych i perspektyw ich życia.
Budowanie sieci kontaktów wewnątrz ruchu przeciw deportacjom
Sądzimy, że należy dążyć do rozszerzenia ruchu przeciw deportacjom i za prawem pobytu dla wszystkich. W obozie będziemy mogli się lepiej poznać i nawiązać kontakty.
Przyłącz się do obozu protestacyjnego 1-6. czerwca 2023!
Żeby ułatwić nam planowanie, prosimy o zgłaszanie udziału mejlowo na adres signup-stopdeportation@riseup.net (wysłanie zgłoszenia nie jest obowiązkowe i można przybywać spontanicznie). W mejlu prosimy podać, ile osób przyjedzie, czy jesteście grupą, czy możecie nam pomóc w tłumaczeniu albo czy potrzebujecie tłumacza podczas warsztatów lub innego wsparcia.
Udział w proteście jest oczywiście bezpłatny. Na posiłki wydawane w obozie będziemy się zrzucać. Jeżeli nie możesz się dorzucić, nie ma problemu! Nie rezygnuj z udziału w proteście ze względu na pieniądze. Jeżeli potrzebujesz finansowego wsparcia na dojazd do obozu, napisz jak najszybciej do finance-stopdeportation@riseup.net. Do zwrotu kosztów potrzebujemy Twój wydrukowany bilet. Mamy bardzo niewielki budżet, dlatego zarezerwuj swój bilet jak najwcześnie i jeśli możliwe, wykorzystaj "Deutschland-Ticket". Jeżeli możesz wesprzeć nasz protest finansowo, tutaj znajdziesz link do społecznej zrzutki, https://www.betterplace.me/stop-deportation-camp-ber
WE ARE HERE, AND WE WILL FIGHT! FREEDOM OF MOVEMENT IS EVERYBODY'S RIGHT!
Aktualne informacje o programie i jak możesz pomóc, https://t.me/stopdeportation
Pytania ogólne wyślij na adres: stop-deportation-camp@riseup.net