Presentation of "The Chasm: The Black Hole of 41 bis" by Zerocalcare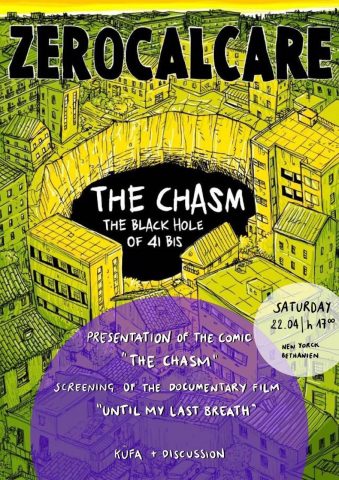 On Saturday (22.04, 17.00) we will present Zerocalcare's comic "La voragine" (the comic will be printed in EN, DE, FR, IT). Alfredo Cospito's struggle against the 41 bis isolation prison regime has been amplified outside the prison walls in Italy and internationally through expressions of solidarity that include demonstrations and direct actions.
Zerocalcare's comic about the 41 bis prison regime is his contribution to this struggle. We will also screen the short movie "Until my last breath". The film documents Alfredo's hunger strike for the abolition of the 41 bis prison regime and life imprisonment without parole. Discussion, food, and drinks will follow. All donations will go to solidarity funds to support prisoners and comrades attacked by repression.
Saturday 22.04.
17:00
NewYorck Bethanien