Daily Picket in Front of Ministry of Justice for the Hungerstrike of Eda Deniz Haydaroğlu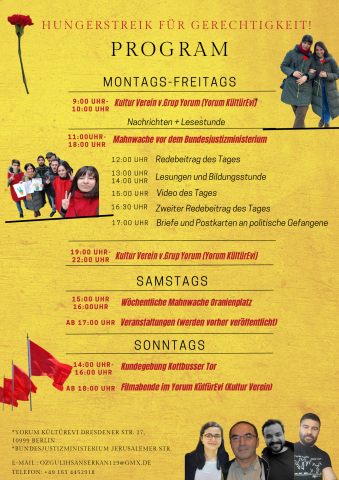 Every weekday morning in front of Ministry of Justice (Hausvogteiplatz, Mitte, 10117,Berlin) a tent is carefully build(from 11:00 to 18:00) to expose the injustices of German State. People come and go to show solidarity with Eda Deniz Haydaroğlu, who is now more than 19 days in indefinite hunger strike. Let's break the fog around the issue, let's show our solidarity with her and slowly but steadily make the §129 cases a thing of the past.
Her demands:
1- Özgül Emre, İhsan Cibelik, Serkan Küpeli and Hasan Unutan should be tried without pre-trial detention.
2-Facebook posts and digital evidence should not and can not be used as criminal evidence.
3- Germany's Federal Prosecutor Peter Frank Should Explain Why He Met with Recep Tayyip Erdoğan, President of Turkey and murderer of thousands of people.
4- Accept the demands of Anarchist Militant Alfredo Cospito, who is on indefinite hunger strike resistance against isolation.
5- Abolish §129, §129a, §129b, abolish all anti-terror laws.
6- Immediate release of all anti-fascist and revolutionary prisoners.